---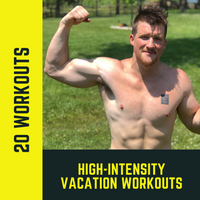 Sale
Vacation is a time to relax, have fun, and do what you love! If you, like me, are a fan of functional fitness and love getting a great workout in before hitting the beach or family party, these are for you.
All of these workouts take less than 60 minutes. Don't be mistaken though... these are serious workouts for those of us who love training and aren't willing to let a long weekend wreak havoc on our waistlines and mental well-being.
I made this ebook after travelling across countries like Peru, Spain, Thailand, Canada, Scotland, and Portugal... looking for ways to integrate fitness workouts within my daily life as I do what I love (vacationing and travelling).
This book includes:
Bodyweight Workouts
"Basic" Gym Workouts (hotels, globo gyms, CrossFit boxes)
Running Workouts
BONUS Workouts
I hope you use these workouts to not only build your fitness, but invite your friends and family on these vacation to join you in these challenging but mentally and physically rewarding workouts.
Example Bodyweight Workout:
Warm Up - 3 Rounds
Cossack Squat x 10/side
Lying Single Leg Glute Bridge x 10/side
Scapular Push Up x 10
E2MOM (10 rounds)
*Perform the following circuit every two minutes on the minute.
5 Burpees
10 Push Ups
15 Squats
*20 minutes total
Core Strength EMOM (2 Rounds)
Minute 1 - Hollow Rocks x 40 seconds
Minute 2 - Side Plank x 20 seconds/side (40 seconds total)
Minute 3 - Knee Tucks x 40 seconds (3 second pause in tuck, per rep)
Minute 4 - Alternating Supermans x 40 seconds
Minute 5 - REST
*10 minutes total